5th flight Dec. 24th 2011
Lesson: Get out while you can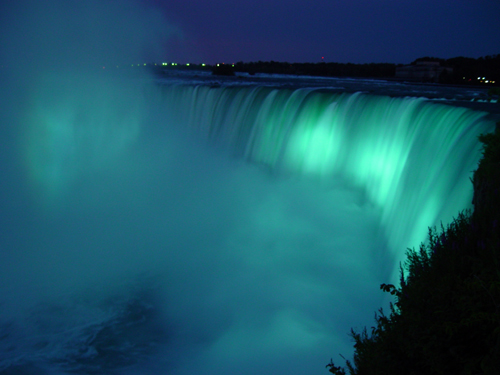 Photo by Paul Bates
Today we finally made it over to Niagara Falls. We had been attempting to make it over there on several flights, however the weather would not cooperate on our route. Today when we checked the weather all looked good. We got a move on early in hopes to get there while it was still light to explore the falls a bit on foot and then go to dinner. We left Republic airport at around 1:00pm.

We found on our way that we had a head wind which slowed our travels down slightly (we were traveling along at 60 to 90 knots). We arrived at KIAG -Niagara Falls International Airport at around 5pm. We landed briefly, and then took off toward the falls (Horseshoe and American falls) to see them from the air.
Bryan had printed a copy of Canada's procedures for circling the falls from the air prior to the flight. Sadly since we arrived so late we couldn't get many good shots with our camera, however visually the scene was spectacular. After circling the falls several times we handed back to Niagara Falls International to land for fuel and get some dinner.
Bryan looked up on AOPA.org a couple days earlier and found out about a nice Italian restaurant (
Leon'sItalian Bistro & Pizza
)
close to the airport. We had planned to head on over there after landing. After we landed a very friendly and helpful lineman came out to greet us. We asked if we could get topped off, and if there was a phone we could use to call for a cab; we were interested getting some dinner at a restaurant close by. The man warned us saying since it was Christmas Eve there may not be many places open anymore. Oh no, I keep forgetting business in the rest of the United States closes at decent times; only New York City stays open 24/7. We headed into the FBO to make some calls and low and behold, not only was the Italian joint closed, but most of the establishments we called were also closed or just about to close.
Boy was I pissed. I had packed food on all the other flights; however we always seemed to eat out at one of the FBO's, so this time I purposely did not bring any food. I thought why carry the extra weight.
Moreover Bry and I had already discussed going to the Italian bistro after touring the falls. Well, this taught me, always come prepared no matter what. You can't go wrong by carrying at least some fruit or nuts with you.
By the time we had reached
Niagara Falls I hadn't eaten in about 10 hours. Bryan noticing how unhappy I was, came up with a plan, a nearby airport in Buffalo NY (KBUF Buffalo Niagara International) had a restaurant open later that evening and it was close by the airport. He said we could fly over there, land and hitch a cab over to the restaurant, we checked the weather once again before heading out. When we left New York earlier the weather trend by Niagara Falls showed what seemed like some poor weather

possibly showing up in the next 24-48 hours or so.
Although at the time it didn't appear it would interfere with our trip, after checking the weather again we realized this was not the case, things were moving in much quicker than anticipated. We knew then the only course of action we could take was to get out while we could. We cancelled our plans for dinner and immediately packed up to fly back home. The flight back home was uneventful, and a slight tail wind we even made it back a little quicker.

After parking the plane for night, we headed home, tired, hungry and exhausted. We learned two valuable things on this flight, always be prepared and get out while you can.
Till out next flight, which is due on 12/31/11, we are planning to fly into the new year.